Main content starts here, tab to start navigating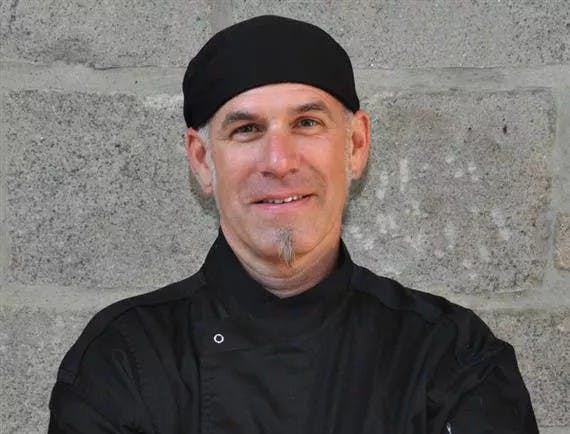 Steve Cobble
Sous Chef
"As a mountain biker, I find a lot of parallels to being a chef. A trail ride through the woods keeps me immersed in the seasons of New England. Whether I'm on my bike or in our kitchen, I find stamina and passion are essential to each day. I couldn't do one without the other, biking gives me a physical edge for the intensity of my work."
He may be the dean of our kitchen, but this veteran culinarian sets a brisk pace in all facets of his life. From earliest memory, he was a student of inventive 'farm to stove' cooking from years of family time spent in Vermont. This tradition became the pathway for his choice to study at the state's New England Culinary Institute. From there his chef posts have hugged the Massachusetts coastline, where he's found plenty of appetite for his improvisational culinary style: relying on what's on the dock or at the farm and then shortly thereafter creating dishes with hints of international techniques and flavors.
In keeping with his love of adventuring, Steve devotedly explores food cultures that are energetic, fanciful and zesty: Caribbean, Northern Italian, Spanish and Portuguese. His recipes reflect his practice of healthy eating. From quinoa to fresh fish, Steve's signature Fish Tacos and New England Seafood Chowder are menu staples by popular request. After anchoring his young family in Quincy, his career sojourns included popular landmarks at which he honed signature continental cooking techniques: St. Cloud, Les Zygomates, Green Street Grill, Red Lion Inn, Granite Links Country Club and Spazio Café. He joined The Quarry on the heels of our 2014 opening, instantly identifying with our rustic culinary theme and wooded surrounds.
When not planning a ride as President of the New England Mountain Bike Association's Southeast Mass Chapter or occupied with the rigors of parenting late teens, Steve makes time for others. Over a career of close to thirty years, he's maintained a full calendar of food philanthropy, including work to support The Spinazzola Foundation, Father Bill's, Harvest Moon Festival, Boy Scouts and Girl Scouts, to name a few.